BERMUDA'S #1 RESORT HOTEL
WHICH IS THE BEST BERMUDA RESORT HOTEL?
When we help guests plan a trip to Bermuda, we recommend several different restaurants and activities to satisfy a variety of tastes and preferences. You are only choosing one hotel, however, and we believe this is the most important vacation planning decision you will make. While there are several amazing properties on the island, we want this part of your experience to be as near perfect as possible, which is why this section is all about Bermuda's top rated hotel,  Cambridge Beaches Resort & Spa.

Cambridge Beaches Resort & Spa
30 Kings Point Road
Sandys, MA02, Bermuda
Local: (441) 234-0331
Toll Free: (800) 468-7300
cambridgebeaches.com
The Best of Bermuda
About Cambridge Beaches Resort & Spa
For nearly 100 years, Cambridge Beaches Resort & Spa has built a reputation as Bermuda's finest vacation destination. The guest-list regularly includes celebrities, but don't worry if you aren't world famous; you'll feel like a rockstar by the way they treat all of their guests!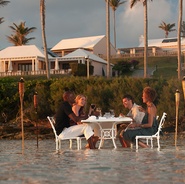 The resort features dozens of individual cottages that make up a one-of-a-kind island colony. These cottages, as well as 3 restaurants, a spa, tennis courts, swimming pools, walking trails and private beaches sprawl over this 30 acre peninsula.
Old Bermuda Charm can be felt as strong here as you'll find anywhere else on the island, and if we had to say what we love most about Cambridge Beaches, that would be the answer. Be sure to ask about the oldest and most historic building on the property, dating back 300 years!
CAMBRIDGE BEACHES RESORT

&

SPA Photo Gallery